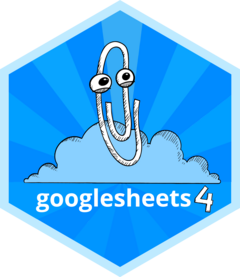 List Sheets endpoints
Source:
R/gs4_endpoints.R
gs4_endpoints.Rd
Returns a list of selected Sheets API v4 endpoints, as stored inside the googlesheets4 package. The names of this list (or the id sub-elements) are the nicknames that can be used to specify an endpoint in request_generate(). For each endpoint, we store its nickname or id, the associated HTTP method, the path, and details about the parameters. This list is derived programmatically from the Sheets API v4 Discovery Document (https://www.googleapis.com/discovery/v1/apis/sheets/v4/rest).
Arguments
i

The name(s) or integer index(ices) of the endpoints to return. Optional. By default, the entire list is returned.
Value
A list containing some or all of the subset of the Sheets API v4 endpoints that are used internally by googlesheets4.
Examples
str

(

gs4_endpoints

(

)

, max.level 

=

 

2

)




#>

 List of 17


#>

  $ sheets.spreadsheets.get                           :List of 8


#>

   ..$ id            : chr "sheets.spreadsheets.get"


#>

   ..$ httpMethod    : chr "GET"


#>

   ..$ path          : 'fs_path' chr "/v4/spreadsheets/{spreadsheetId}"


#>

   ..$ parameters    :List of 14


#>

   ..$ scopes        : chr "drive, drive.file, drive.readonly, spreadsheets, spreadsheets.readonly"


#>

   ..$ description   : chr "Returns the spreadsheet at the given ID. The caller must specify the spreadsheet ID. By default, data within gr"| __truncated__


#>

   ..$ response      : chr "Spreadsheet"


#>

   ..$ parameterOrder: chr "spreadsheetId"


#>

  $ sheets.spreadsheets.batchUpdate                   :List of 9


#>

   ..$ id            : chr "sheets.spreadsheets.batchUpdate"


#>

   ..$ httpMethod    : chr "POST"


#>

   ..$ path          : 'fs_path' chr "/v4/spreadsheets/{spreadsheetId}:batchUpdate"


#>

   ..$ parameters    :List of 16


#>

   ..$ scopes        : chr "drive, drive.file, spreadsheets"


#>

   ..$ description   : chr "Applies one or more updates to the spreadsheet. Each request is validated before being applied. If any request "| __truncated__


#>

   ..$ request       : chr "BatchUpdateSpreadsheetRequest"


#>

   ..$ response      : chr "BatchUpdateSpreadsheetResponse"


#>

   ..$ parameterOrder: chr "spreadsheetId"


#>

  $ sheets.spreadsheets.create                        :List of 9


#>

   ..$ id            : chr "sheets.spreadsheets.create"


#>

   ..$ httpMethod    : chr "POST"


#>

   ..$ path          : 'fs_path' chr "/v4/spreadsheets"


#>

   ..$ parameters    :List of 19


#>

   ..$ scopes        : chr "drive, drive.file, spreadsheets"


#>

   ..$ description   : chr "Creates a spreadsheet, returning the newly created spreadsheet."


#>

   ..$ request       : chr "Spreadsheet"


#>

   ..$ response      : chr "Spreadsheet"


#>

   ..$ parameterOrder: list()


#>

  $ sheets.spreadsheets.getByDataFilter               :List of 9


#>

   ..$ id            : chr "sheets.spreadsheets.getByDataFilter"


#>

   ..$ httpMethod    : chr "POST"


#>

   ..$ path          : 'fs_path' chr "/v4/spreadsheets/{spreadsheetId}:getByDataFilter"


#>

   ..$ parameters    :List of 14


#>

   ..$ scopes        : chr "drive, drive.file, spreadsheets"


#>

   ..$ description   : chr "Returns the spreadsheet at the given ID. The caller must specify the spreadsheet ID. This method differs from G"| __truncated__


#>

   ..$ request       : chr "GetSpreadsheetByDataFilterRequest"


#>

   ..$ response      : chr "Spreadsheet"


#>

   ..$ parameterOrder: chr "spreadsheetId"


#>

  $ sheets.spreadsheets.values.batchUpdate            :List of 9


#>

   ..$ id            : chr "sheets.spreadsheets.values.batchUpdate"


#>

   ..$ httpMethod    : chr "POST"


#>

   ..$ path          : 'fs_path' chr "/v4/spreadsheets/{spreadsheetId}/values:batchUpdate"


#>

   ..$ parameters    :List of 17


#>

   ..$ scopes        : chr "drive, drive.file, spreadsheets"


#>

   ..$ description   : chr "Sets values in one or more ranges of a spreadsheet. The caller must specify the spreadsheet ID, a valueInputOpt"| __truncated__


#>

   ..$ request       : chr "BatchUpdateValuesRequest"


#>

   ..$ response      : chr "BatchUpdateValuesResponse"


#>

   ..$ parameterOrder: chr "spreadsheetId"


#>

  $ sheets.spreadsheets.values.batchClearByDataFilter :List of 9


#>

   ..$ id            : chr "sheets.spreadsheets.values.batchClearByDataFilter"


#>

   ..$ httpMethod    : chr "POST"


#>

   ..$ path          : 'fs_path' chr "/v4/spreadsheets/{spreadsheetId}/values:batchClearByDataFilter"


#>

   ..$ parameters    :List of 13


#>

   ..$ scopes        : chr "drive, drive.file, spreadsheets"


#>

   ..$ description   : chr "Clears one or more ranges of values from a spreadsheet. The caller must specify the spreadsheet ID and one or m"| __truncated__


#>

   ..$ request       : chr "BatchClearValuesByDataFilterRequest"


#>

   ..$ response      : chr "BatchClearValuesByDataFilterResponse"


#>

   ..$ parameterOrder: chr "spreadsheetId"


#>

  $ sheets.spreadsheets.values.batchClear             :List of 9


#>

   ..$ id            : chr "sheets.spreadsheets.values.batchClear"


#>

   ..$ httpMethod    : chr "POST"


#>

   ..$ path          : 'fs_path' chr "/v4/spreadsheets/{spreadsheetId}/values:batchClear"


#>

   ..$ parameters    :List of 13


#>

   ..$ scopes        : chr "drive, drive.file, spreadsheets"


#>

   ..$ description   : chr "Clears one or more ranges of values from a spreadsheet. The caller must specify the spreadsheet ID and one or m"| __truncated__


#>

   ..$ request       : chr "BatchClearValuesRequest"


#>

   ..$ response      : chr "BatchClearValuesResponse"


#>

   ..$ parameterOrder: chr "spreadsheetId"


#>

  $ sheets.spreadsheets.values.batchGetByDataFilter   :List of 9


#>

   ..$ id            : chr "sheets.spreadsheets.values.batchGetByDataFilter"


#>

   ..$ httpMethod    : chr "POST"


#>

   ..$ path          : 'fs_path' chr "/v4/spreadsheets/{spreadsheetId}/values:batchGetByDataFilter"


#>

   ..$ parameters    :List of 16


#>

   ..$ scopes        : chr "drive, drive.file, spreadsheets"


#>

   ..$ description   : chr "Returns one or more ranges of values that match the specified data filters. The caller must specify the spreads"| __truncated__


#>

   ..$ request       : chr "BatchGetValuesByDataFilterRequest"


#>

   ..$ response      : chr "BatchGetValuesByDataFilterResponse"


#>

   ..$ parameterOrder: chr "spreadsheetId"


#>

  $ sheets.spreadsheets.values.get                    :List of 8


#>

   ..$ id            : chr "sheets.spreadsheets.values.get"


#>

   ..$ httpMethod    : chr "GET"


#>

   ..$ path          : 'fs_path' chr "/v4/spreadsheets/{spreadsheetId}/values/{range}"


#>

   ..$ parameters    :List of 16


#>

   ..$ scopes        : chr "drive, drive.file, drive.readonly, spreadsheets, spreadsheets.readonly"


#>

   ..$ description   : chr "Returns a range of values from a spreadsheet. The caller must specify the spreadsheet ID and a range."


#>

   ..$ response      : chr "ValueRange"


#>

   ..$ parameterOrder: chr [1:2] "spreadsheetId" "range"


#>

  $ sheets.spreadsheets.values.batchUpdateByDataFilter:List of 9


#>

   ..$ id            : chr "sheets.spreadsheets.values.batchUpdateByDataFilter"


#>

   ..$ httpMethod    : chr "POST"


#>

   ..$ path          : 'fs_path' chr "/v4/spreadsheets/{spreadsheetId}/values:batchUpdateByDataFilter"


#>

   ..$ parameters    :List of 17


#>

   ..$ scopes        : chr "drive, drive.file, spreadsheets"


#>

   ..$ description   : chr "Sets values in one or more ranges of a spreadsheet. The caller must specify the spreadsheet ID, a valueInputOpt"| __truncated__


#>

   ..$ request       : chr "BatchUpdateValuesByDataFilterRequest"


#>

   ..$ response      : chr "BatchUpdateValuesByDataFilterResponse"


#>

   ..$ parameterOrder: chr "spreadsheetId"


#>

  $ sheets.spreadsheets.values.append                 :List of 9


#>

   ..$ id            : chr "sheets.spreadsheets.values.append"


#>

   ..$ httpMethod    : chr "POST"


#>

   ..$ path          : 'fs_path' chr "/v4/spreadsheets/{spreadsheetId}/values/{range}:append"


#>

   ..$ parameters    :List of 21


#>

   ..$ scopes        : chr "drive, drive.file, spreadsheets"


#>

   ..$ description   : chr "Appends values to a spreadsheet. The input range is used to search for existing data and find a \"table\" withi"| __truncated__


#>

   ..$ request       : chr "ValueRange"


#>

   ..$ response      : chr "AppendValuesResponse"


#>

   ..$ parameterOrder: chr [1:2] "spreadsheetId" "range"


#>

  $ sheets.spreadsheets.values.update                 :List of 9


#>

   ..$ id            : chr "sheets.spreadsheets.values.update"


#>

   ..$ httpMethod    : chr "PUT"


#>

   ..$ path          : 'fs_path' chr "/v4/spreadsheets/{spreadsheetId}/values/{range}"


#>

   ..$ parameters    :List of 20


#>

   ..$ scopes        : chr "drive, drive.file, spreadsheets"


#>

   ..$ description   : chr "Sets values in a range of a spreadsheet. The caller must specify the spreadsheet ID, range, and a valueInputOption."


#>

   ..$ request       : chr "ValueRange"


#>

   ..$ response      : chr "UpdateValuesResponse"


#>

   ..$ parameterOrder: chr [1:2] "spreadsheetId" "range"


#>

  $ sheets.spreadsheets.values.clear                  :List of 9


#>

   ..$ id            : chr "sheets.spreadsheets.values.clear"


#>

   ..$ httpMethod    : chr "POST"


#>

   ..$ path          : 'fs_path' chr "/v4/spreadsheets/{spreadsheetId}/values/{range}:clear"


#>

   ..$ parameters    :List of 13


#>

   ..$ scopes        : chr "drive, drive.file, spreadsheets"


#>

   ..$ description   : chr "Clears values from a spreadsheet. The caller must specify the spreadsheet ID and range. Only values are cleared"| __truncated__


#>

   ..$ request       : chr "ClearValuesRequest"


#>

   ..$ response      : chr "ClearValuesResponse"


#>

   ..$ parameterOrder: chr [1:2] "spreadsheetId" "range"


#>

  $ sheets.spreadsheets.values.batchGet               :List of 8


#>

   ..$ id            : chr "sheets.spreadsheets.values.batchGet"


#>

   ..$ httpMethod    : chr "GET"


#>

   ..$ path          : 'fs_path' chr "/v4/spreadsheets/{spreadsheetId}/values:batchGet"


#>

   ..$ parameters    :List of 16


#>

   ..$ scopes        : chr "drive, drive.file, drive.readonly, spreadsheets, spreadsheets.readonly"


#>

   ..$ description   : chr "Returns one or more ranges of values from a spreadsheet. The caller must specify the spreadsheet ID and one or more ranges."


#>

   ..$ response      : chr "BatchGetValuesResponse"


#>

   ..$ parameterOrder: chr "spreadsheetId"


#>

  $ sheets.spreadsheets.developerMetadata.get         :List of 8


#>

   ..$ id            : chr "sheets.spreadsheets.developerMetadata.get"


#>

   ..$ httpMethod    : chr "GET"


#>

   ..$ path          : 'fs_path' chr "/v4/spreadsheets/{spreadsheetId}/developerMetadata/{metadataId}"


#>

   ..$ parameters    :List of 13


#>

   ..$ scopes        : chr "drive, drive.file, spreadsheets"


#>

   ..$ description   : chr "Returns the developer metadata with the specified ID. The caller must specify the spreadsheet ID and the develo"| __truncated__


#>

   ..$ response      : chr "DeveloperMetadata"


#>

   ..$ parameterOrder: chr [1:2] "spreadsheetId" "metadataId"


#>

  $ sheets.spreadsheets.developerMetadata.search      :List of 9


#>

   ..$ id            : chr "sheets.spreadsheets.developerMetadata.search"


#>

   ..$ httpMethod    : chr "POST"


#>

   ..$ path          : 'fs_path' chr "/v4/spreadsheets/{spreadsheetId}/developerMetadata:search"


#>

   ..$ parameters    :List of 13


#>

   ..$ scopes        : chr "drive, drive.file, spreadsheets"


#>

   ..$ description   : chr "Returns all developer metadata matching the specified DataFilter. If the provided DataFilter represents a Devel"| __truncated__


#>

   ..$ request       : chr "SearchDeveloperMetadataRequest"


#>

   ..$ response      : chr "SearchDeveloperMetadataResponse"


#>

   ..$ parameterOrder: chr "spreadsheetId"


#>

  $ sheets.spreadsheets.sheets.copyTo                 :List of 9


#>

   ..$ id            : chr "sheets.spreadsheets.sheets.copyTo"


#>

   ..$ httpMethod    : chr "POST"


#>

   ..$ path          : 'fs_path' chr "/v4/spreadsheets/{spreadsheetId}/sheets/{sheetId}:copyTo"


#>

   ..$ parameters    :List of 14


#>

   ..$ scopes        : chr "drive, drive.file, spreadsheets"


#>

   ..$ description   : chr "Copies a single sheet from a spreadsheet to another spreadsheet. Returns the properties of the newly created sheet."


#>

   ..$ request       : chr "CopySheetToAnotherSpreadsheetRequest"


#>

   ..$ response      : chr "SheetProperties"


#>

   ..$ parameterOrder: chr [1:2] "spreadsheetId" "sheetId"


gs4_endpoints

(

"sheets.spreadsheets.values.get"

)




#>

 $sheets.spreadsheets.values.get


#>

 $sheets.spreadsheets.values.get$id


#>

 [1] "sheets.spreadsheets.values.get"


#>

 


#>

 $sheets.spreadsheets.values.get$httpMethod


#>

 [1] "GET"


#>

 


#>

 $sheets.spreadsheets.values.get$path


#>

 /v4/spreadsheets/{spreadsheetId}/values/{range}


#>

 


#>

 $sheets.spreadsheets.values.get$parameters


#>

 $sheets.spreadsheets.values.get$parameters$spreadsheetId


#>

 $sheets.spreadsheets.values.get$parameters$spreadsheetId$type


#>

 [1] "string"


#>

 


#>

 $sheets.spreadsheets.values.get$parameters$spreadsheetId$required


#>

 [1] TRUE


#>

 


#>

 $sheets.spreadsheets.values.get$parameters$spreadsheetId$location


#>

 [1] "path"


#>

 


#>

 $sheets.spreadsheets.values.get$parameters$spreadsheetId$description


#>

 [1] "The ID of the spreadsheet to retrieve data from."


#>

 


#>

 


#>

 $sheets.spreadsheets.values.get$parameters$valueRenderOption


#>

 $sheets.spreadsheets.values.get$parameters$valueRenderOption$type


#>

 [1] "string"


#>

 


#>

 $sheets.spreadsheets.values.get$parameters$valueRenderOption$enum


#>

 [1] "FORMATTED_VALUE"   "UNFORMATTED_VALUE" "FORMULA"          


#>

 


#>

 $sheets.spreadsheets.values.get$parameters$valueRenderOption$location


#>

 [1] "query"


#>

 


#>

 $sheets.spreadsheets.values.get$parameters$valueRenderOption$enumDescriptions


#>

 [1] "Values will be calculated & formatted in the reply according to the cell's formatting. Formatting is based on the spreadsheet's locale, not the requesting user's locale. For example, if `A1` is `1.23` and `A2` is `=A1` and formatted as currency, then `A2` would return `\"$1.23\"`."


#>

 [2] "Values will be calculated, but not formatted in the reply. For example, if `A1` is `1.23` and `A2` is `=A1` and formatted as currency, then `A2` would return the number `1.23`."                                                                                                         


#>

 [3] "Values will not be calculated. The reply will include the formulas. For example, if `A1` is `1.23` and `A2` is `=A1` and formatted as currency, then A2 would return `\"=A1\"`."                                                                                                          


#>

 


#>

 $sheets.spreadsheets.values.get$parameters$valueRenderOption$description


#>

 [1] "How values should be represented in the output. The default render option is ValueRenderOption.FORMATTED_VALUE."


#>

 


#>

 


#>

 $sheets.spreadsheets.values.get$parameters$range


#>

 $sheets.spreadsheets.values.get$parameters$range$location


#>

 [1] "path"


#>

 


#>

 $sheets.spreadsheets.values.get$parameters$range$type


#>

 [1] "string"


#>

 


#>

 $sheets.spreadsheets.values.get$parameters$range$description


#>

 [1] "The A1 notation of the values to retrieve."


#>

 


#>

 $sheets.spreadsheets.values.get$parameters$range$required


#>

 [1] TRUE


#>

 


#>

 


#>

 $sheets.spreadsheets.values.get$parameters$majorDimension


#>

 $sheets.spreadsheets.values.get$parameters$majorDimension$description


#>

 [1] "The major dimension that results should use. For example, if the spreadsheet data is: `A1=1,B1=2,A2=3,B2=4`, then requesting `range=A1:B2,majorDimension=ROWS` returns `[[1,2],[3,4]]`, whereas requesting `range=A1:B2,majorDimension=COLUMNS` returns `[[1,3],[2,4]]`."


#>

 


#>

 $sheets.spreadsheets.values.get$parameters$majorDimension$location


#>

 [1] "query"


#>

 


#>

 $sheets.spreadsheets.values.get$parameters$majorDimension$enum


#>

 [1] "DIMENSION_UNSPECIFIED" "ROWS"                 


#>

 [3] "COLUMNS"              


#>

 


#>

 $sheets.spreadsheets.values.get$parameters$majorDimension$enumDescriptions


#>

 [1] "The default value, do not use."     


#>

 [2] "Operates on the rows of a sheet."   


#>

 [3] "Operates on the columns of a sheet."


#>

 


#>

 $sheets.spreadsheets.values.get$parameters$majorDimension$type


#>

 [1] "string"


#>

 


#>

 


#>

 $sheets.spreadsheets.values.get$parameters$dateTimeRenderOption


#>

 $sheets.spreadsheets.values.get$parameters$dateTimeRenderOption$description


#>

 [1] "How dates, times, and durations should be represented in the output. This is ignored if value_render_option is FORMATTED_VALUE. The default dateTime render option is [DateTimeRenderOption.SERIAL_NUMBER]."


#>

 


#>

 $sheets.spreadsheets.values.get$parameters$dateTimeRenderOption$enumDescriptions


#>

 [1] "Instructs date, time, datetime, and duration fields to be output as doubles in \"serial number\" format, as popularized by Lotus 1-2-3. The whole number portion of the value (left of the decimal) counts the days since December 30th 1899. The fractional portion (right of the decimal) counts the time as a fraction of the day. For example, January 1st 1900 at noon would be 2.5, 2 because it's 2 days after December 30st 1899, and .5 because noon is half a day. February 1st 1900 at 3pm would be 33.625. This correctly treats the year 1900 as not a leap year."


#>

 [2] "Instructs date, time, datetime, and duration fields to be output as strings in their given number format (which is dependent on the spreadsheet locale)."                                                                                                                                                                                                                                                                                                                                                                                                                      


#>

 


#>

 $sheets.spreadsheets.values.get$parameters$dateTimeRenderOption$type


#>

 [1] "string"


#>

 


#>

 $sheets.spreadsheets.values.get$parameters$dateTimeRenderOption$enum


#>

 [1] "SERIAL_NUMBER"    "FORMATTED_STRING"


#>

 


#>

 $sheets.spreadsheets.values.get$parameters$dateTimeRenderOption$location


#>

 [1] "query"


#>

 


#>

 


#>

 $sheets.spreadsheets.values.get$parameters$prettyPrint


#>

 $sheets.spreadsheets.values.get$parameters$prettyPrint$location


#>

 [1] "query"


#>

 


#>

 $sheets.spreadsheets.values.get$parameters$prettyPrint$description


#>

 [1] "Returns response with indentations and line breaks."


#>

 


#>

 $sheets.spreadsheets.values.get$parameters$prettyPrint$default


#>

 [1] "true"


#>

 


#>

 $sheets.spreadsheets.values.get$parameters$prettyPrint$type


#>

 [1] "boolean"


#>

 


#>

 


#>

 $sheets.spreadsheets.values.get$parameters$uploadType


#>

 $sheets.spreadsheets.values.get$parameters$uploadType$description


#>

 [1] "Legacy upload protocol for media (e.g. \"media\", \"multipart\")."


#>

 


#>

 $sheets.spreadsheets.values.get$parameters$uploadType$location


#>

 [1] "query"


#>

 


#>

 $sheets.spreadsheets.values.get$parameters$uploadType$type


#>

 [1] "string"


#>

 


#>

 


#>

 $sheets.spreadsheets.values.get$parameters$callback


#>

 $sheets.spreadsheets.values.get$parameters$callback$description


#>

 [1] "JSONP"


#>

 


#>

 $sheets.spreadsheets.values.get$parameters$callback$location


#>

 [1] "query"


#>

 


#>

 $sheets.spreadsheets.values.get$parameters$callback$type


#>

 [1] "string"


#>

 


#>

 


#>

 $sheets.spreadsheets.values.get$parameters$quotaUser


#>

 $sheets.spreadsheets.values.get$parameters$quotaUser$location


#>

 [1] "query"


#>

 


#>

 $sheets.spreadsheets.values.get$parameters$quotaUser$description


#>

 [1] "Available to use for quota purposes for server-side applications. Can be any arbitrary string assigned to a user, but should not exceed 40 characters."


#>

 


#>

 $sheets.spreadsheets.values.get$parameters$quotaUser$type


#>

 [1] "string"


#>

 


#>

 


#>

 $sheets.spreadsheets.values.get$parameters$access_token


#>

 $sheets.spreadsheets.values.get$parameters$access_token$type


#>

 [1] "string"


#>

 


#>

 $sheets.spreadsheets.values.get$parameters$access_token$location


#>

 [1] "query"


#>

 


#>

 $sheets.spreadsheets.values.get$parameters$access_token$description


#>

 [1] "OAuth access token."


#>

 


#>

 


#>

 $sheets.spreadsheets.values.get$parameters$upload_protocol


#>

 $sheets.spreadsheets.values.get$parameters$upload_protocol$description


#>

 [1] "Upload protocol for media (e.g. \"raw\", \"multipart\")."


#>

 


#>

 $sheets.spreadsheets.values.get$parameters$upload_protocol$type


#>

 [1] "string"


#>

 


#>

 $sheets.spreadsheets.values.get$parameters$upload_protocol$location


#>

 [1] "query"


#>

 


#>

 


#>

 $sheets.spreadsheets.values.get$parameters$alt


#>

 $sheets.spreadsheets.values.get$parameters$alt$default


#>

 [1] "json"


#>

 


#>

 $sheets.spreadsheets.values.get$parameters$alt$description


#>

 [1] "Data format for response."


#>

 


#>

 $sheets.spreadsheets.values.get$parameters$alt$enumDescriptions


#>

 [1] "Responses with Content-Type of application/json"      


#>

 [2] "Media download with context-dependent Content-Type"   


#>

 [3] "Responses with Content-Type of application/x-protobuf"


#>

 


#>

 $sheets.spreadsheets.values.get$parameters$alt$location


#>

 [1] "query"


#>

 


#>

 $sheets.spreadsheets.values.get$parameters$alt$enum


#>

 [1] "json"  "media" "proto"


#>

 


#>

 $sheets.spreadsheets.values.get$parameters$alt$type


#>

 [1] "string"


#>

 


#>

 


#>

 $sheets.spreadsheets.values.get$parameters$oauth_token


#>

 $sheets.spreadsheets.values.get$parameters$oauth_token$description


#>

 [1] "OAuth 2.0 token for the current user."


#>

 


#>

 $sheets.spreadsheets.values.get$parameters$oauth_token$type


#>

 [1] "string"


#>

 


#>

 $sheets.spreadsheets.values.get$parameters$oauth_token$location


#>

 [1] "query"


#>

 


#>

 


#>

 $sheets.spreadsheets.values.get$parameters$fields


#>

 $sheets.spreadsheets.values.get$parameters$fields$location


#>

 [1] "query"


#>

 


#>

 $sheets.spreadsheets.values.get$parameters$fields$description


#>

 [1] "Selector specifying which fields to include in a partial response."


#>

 


#>

 $sheets.spreadsheets.values.get$parameters$fields$type


#>

 [1] "string"


#>

 


#>

 


#>

 $sheets.spreadsheets.values.get$parameters$key


#>

 $sheets.spreadsheets.values.get$parameters$key$description


#>

 [1] "API key. Your API key identifies your project and provides you with API access, quota, and reports. Required unless you provide an OAuth 2.0 token."


#>

 


#>

 $sheets.spreadsheets.values.get$parameters$key$location


#>

 [1] "query"


#>

 


#>

 $sheets.spreadsheets.values.get$parameters$key$type


#>

 [1] "string"


#>

 


#>

 


#>

 $sheets.spreadsheets.values.get$parameters$`$.xgafv`


#>

 $sheets.spreadsheets.values.get$parameters$`$.xgafv`$type


#>

 [1] "string"


#>

 


#>

 $sheets.spreadsheets.values.get$parameters$`$.xgafv`$description


#>

 [1] "V1 error format."


#>

 


#>

 $sheets.spreadsheets.values.get$parameters$`$.xgafv`$location


#>

 [1] "query"


#>

 


#>

 $sheets.spreadsheets.values.get$parameters$`$.xgafv`$enumDescriptions


#>

 [1] "v1 error format" "v2 error format"


#>

 


#>

 $sheets.spreadsheets.values.get$parameters$`$.xgafv`$enum


#>

 [1] "1" "2"


#>

 


#>

 


#>

 


#>

 $sheets.spreadsheets.values.get$scopes


#>

 [1] "drive, drive.file, drive.readonly, spreadsheets, spreadsheets.readonly"


#>

 


#>

 $sheets.spreadsheets.values.get$description


#>

 [1] "Returns a range of values from a spreadsheet. The caller must specify the spreadsheet ID and a range."


#>

 


#>

 $sheets.spreadsheets.values.get$response


#>

 [1] "ValueRange"


#>

 


#>

 $sheets.spreadsheets.values.get$parameterOrder


#>

 [1] "spreadsheetId" "range"        


#>

 


#>

 


gs4_endpoints

(

4

)




#>

 $sheets.spreadsheets.getByDataFilter


#>

 $sheets.spreadsheets.getByDataFilter$id


#>

 [1] "sheets.spreadsheets.getByDataFilter"


#>

 


#>

 $sheets.spreadsheets.getByDataFilter$httpMethod


#>

 [1] "POST"


#>

 


#>

 $sheets.spreadsheets.getByDataFilter$path


#>

 /v4/spreadsheets/{spreadsheetId}:getByDataFilter


#>

 


#>

 $sheets.spreadsheets.getByDataFilter$parameters


#>

 $sheets.spreadsheets.getByDataFilter$parameters$spreadsheetId


#>

 $sheets.spreadsheets.getByDataFilter$parameters$spreadsheetId$description


#>

 [1] "The spreadsheet to request."


#>

 


#>

 $sheets.spreadsheets.getByDataFilter$parameters$spreadsheetId$required


#>

 [1] TRUE


#>

 


#>

 $sheets.spreadsheets.getByDataFilter$parameters$spreadsheetId$type


#>

 [1] "string"


#>

 


#>

 $sheets.spreadsheets.getByDataFilter$parameters$spreadsheetId$location


#>

 [1] "path"


#>

 


#>

 


#>

 $sheets.spreadsheets.getByDataFilter$parameters$dataFilters


#>

 $sheets.spreadsheets.getByDataFilter$parameters$dataFilters$description


#>

 [1] "The DataFilters used to select which ranges to retrieve from the spreadsheet."


#>

 


#>

 $sheets.spreadsheets.getByDataFilter$parameters$dataFilters$items


#>

 $sheets.spreadsheets.getByDataFilter$parameters$dataFilters$items$`$ref`


#>

 [1] "DataFilter"


#>

 


#>

 


#>

 $sheets.spreadsheets.getByDataFilter$parameters$dataFilters$type


#>

 [1] "array"


#>

 


#>

 $sheets.spreadsheets.getByDataFilter$parameters$dataFilters$location


#>

 [1] "body"


#>

 


#>

 


#>

 $sheets.spreadsheets.getByDataFilter$parameters$includeGridData


#>

 $sheets.spreadsheets.getByDataFilter$parameters$includeGridData$description


#>

 [1] "True if grid data should be returned. This parameter is ignored if a field mask was set in the request."


#>

 


#>

 $sheets.spreadsheets.getByDataFilter$parameters$includeGridData$type


#>

 [1] "boolean"


#>

 


#>

 $sheets.spreadsheets.getByDataFilter$parameters$includeGridData$location


#>

 [1] "body"


#>

 


#>

 


#>

 $sheets.spreadsheets.getByDataFilter$parameters$prettyPrint


#>

 $sheets.spreadsheets.getByDataFilter$parameters$prettyPrint$location


#>

 [1] "query"


#>

 


#>

 $sheets.spreadsheets.getByDataFilter$parameters$prettyPrint$description


#>

 [1] "Returns response with indentations and line breaks."


#>

 


#>

 $sheets.spreadsheets.getByDataFilter$parameters$prettyPrint$default


#>

 [1] "true"


#>

 


#>

 $sheets.spreadsheets.getByDataFilter$parameters$prettyPrint$type


#>

 [1] "boolean"


#>

 


#>

 


#>

 $sheets.spreadsheets.getByDataFilter$parameters$uploadType


#>

 $sheets.spreadsheets.getByDataFilter$parameters$uploadType$description


#>

 [1] "Legacy upload protocol for media (e.g. \"media\", \"multipart\")."


#>

 


#>

 $sheets.spreadsheets.getByDataFilter$parameters$uploadType$location


#>

 [1] "query"


#>

 


#>

 $sheets.spreadsheets.getByDataFilter$parameters$uploadType$type


#>

 [1] "string"


#>

 


#>

 


#>

 $sheets.spreadsheets.getByDataFilter$parameters$callback


#>

 $sheets.spreadsheets.getByDataFilter$parameters$callback$description


#>

 [1] "JSONP"


#>

 


#>

 $sheets.spreadsheets.getByDataFilter$parameters$callback$location


#>

 [1] "query"


#>

 


#>

 $sheets.spreadsheets.getByDataFilter$parameters$callback$type


#>

 [1] "string"


#>

 


#>

 


#>

 $sheets.spreadsheets.getByDataFilter$parameters$quotaUser


#>

 $sheets.spreadsheets.getByDataFilter$parameters$quotaUser$location


#>

 [1] "query"


#>

 


#>

 $sheets.spreadsheets.getByDataFilter$parameters$quotaUser$description


#>

 [1] "Available to use for quota purposes for server-side applications. Can be any arbitrary string assigned to a user, but should not exceed 40 characters."


#>

 


#>

 $sheets.spreadsheets.getByDataFilter$parameters$quotaUser$type


#>

 [1] "string"


#>

 


#>

 


#>

 $sheets.spreadsheets.getByDataFilter$parameters$access_token


#>

 $sheets.spreadsheets.getByDataFilter$parameters$access_token$type


#>

 [1] "string"


#>

 


#>

 $sheets.spreadsheets.getByDataFilter$parameters$access_token$location


#>

 [1] "query"


#>

 


#>

 $sheets.spreadsheets.getByDataFilter$parameters$access_token$description


#>

 [1] "OAuth access token."


#>

 


#>

 


#>

 $sheets.spreadsheets.getByDataFilter$parameters$upload_protocol


#>

 $sheets.spreadsheets.getByDataFilter$parameters$upload_protocol$description


#>

 [1] "Upload protocol for media (e.g. \"raw\", \"multipart\")."


#>

 


#>

 $sheets.spreadsheets.getByDataFilter$parameters$upload_protocol$type


#>

 [1] "string"


#>

 


#>

 $sheets.spreadsheets.getByDataFilter$parameters$upload_protocol$location


#>

 [1] "query"


#>

 


#>

 


#>

 $sheets.spreadsheets.getByDataFilter$parameters$alt


#>

 $sheets.spreadsheets.getByDataFilter$parameters$alt$default


#>

 [1] "json"


#>

 


#>

 $sheets.spreadsheets.getByDataFilter$parameters$alt$description


#>

 [1] "Data format for response."


#>

 


#>

 $sheets.spreadsheets.getByDataFilter$parameters$alt$enumDescriptions


#>

 [1] "Responses with Content-Type of application/json"      


#>

 [2] "Media download with context-dependent Content-Type"   


#>

 [3] "Responses with Content-Type of application/x-protobuf"


#>

 


#>

 $sheets.spreadsheets.getByDataFilter$parameters$alt$location


#>

 [1] "query"


#>

 


#>

 $sheets.spreadsheets.getByDataFilter$parameters$alt$enum


#>

 [1] "json"  "media" "proto"


#>

 


#>

 $sheets.spreadsheets.getByDataFilter$parameters$alt$type


#>

 [1] "string"


#>

 


#>

 


#>

 $sheets.spreadsheets.getByDataFilter$parameters$oauth_token


#>

 $sheets.spreadsheets.getByDataFilter$parameters$oauth_token$description


#>

 [1] "OAuth 2.0 token for the current user."


#>

 


#>

 $sheets.spreadsheets.getByDataFilter$parameters$oauth_token$type


#>

 [1] "string"


#>

 


#>

 $sheets.spreadsheets.getByDataFilter$parameters$oauth_token$location


#>

 [1] "query"


#>

 


#>

 


#>

 $sheets.spreadsheets.getByDataFilter$parameters$fields


#>

 $sheets.spreadsheets.getByDataFilter$parameters$fields$location


#>

 [1] "query"


#>

 


#>

 $sheets.spreadsheets.getByDataFilter$parameters$fields$description


#>

 [1] "Selector specifying which fields to include in a partial response."


#>

 


#>

 $sheets.spreadsheets.getByDataFilter$parameters$fields$type


#>

 [1] "string"


#>

 


#>

 


#>

 $sheets.spreadsheets.getByDataFilter$parameters$key


#>

 $sheets.spreadsheets.getByDataFilter$parameters$key$description


#>

 [1] "API key. Your API key identifies your project and provides you with API access, quota, and reports. Required unless you provide an OAuth 2.0 token."


#>

 


#>

 $sheets.spreadsheets.getByDataFilter$parameters$key$location


#>

 [1] "query"


#>

 


#>

 $sheets.spreadsheets.getByDataFilter$parameters$key$type


#>

 [1] "string"


#>

 


#>

 


#>

 $sheets.spreadsheets.getByDataFilter$parameters$`$.xgafv`


#>

 $sheets.spreadsheets.getByDataFilter$parameters$`$.xgafv`$type


#>

 [1] "string"


#>

 


#>

 $sheets.spreadsheets.getByDataFilter$parameters$`$.xgafv`$description


#>

 [1] "V1 error format."


#>

 


#>

 $sheets.spreadsheets.getByDataFilter$parameters$`$.xgafv`$location


#>

 [1] "query"


#>

 


#>

 $sheets.spreadsheets.getByDataFilter$parameters$`$.xgafv`$enumDescriptions


#>

 [1] "v1 error format" "v2 error format"


#>

 


#>

 $sheets.spreadsheets.getByDataFilter$parameters$`$.xgafv`$enum


#>

 [1] "1" "2"


#>

 


#>

 


#>

 


#>

 $sheets.spreadsheets.getByDataFilter$scopes


#>

 [1] "drive, drive.file, spreadsheets"


#>

 


#>

 $sheets.spreadsheets.getByDataFilter$description


#>

 [1] "Returns the spreadsheet at the given ID. The caller must specify the spreadsheet ID. This method differs from GetSpreadsheet in that it allows selecting which subsets of spreadsheet data to return by specifying a dataFilters parameter. Multiple DataFilters can be specified. Specifying one or more data filters will return the portions of the spreadsheet that intersect ranges matched by any of the filters. By default, data within grids will not be returned. You can include grid data one of two ways: * Specify a field mask listing your desired fields using the `fields` URL parameter in HTTP * Set the includeGridData parameter to true. If a field mask is set, the `includeGridData` parameter is ignored For large spreadsheets, it is recommended to retrieve only the specific fields of the spreadsheet that you want."


#>

 


#>

 $sheets.spreadsheets.getByDataFilter$request


#>

 [1] "GetSpreadsheetByDataFilterRequest"


#>

 


#>

 $sheets.spreadsheets.getByDataFilter$response


#>

 [1] "Spreadsheet"


#>

 


#>

 $sheets.spreadsheets.getByDataFilter$parameterOrder


#>

 [1] "spreadsheetId"


#>

 


#>